Awards & Accolades
Firestone Partner in Quality
Diamond Inc. " Diamond Roofing Specialists, Inc." has been awarded this award 6 times. The most recent in 2015, 2014, 2013 and 2012. We were among 193 roofing contractors throughout North America honored with this award. It goes to contractors who maintained at least 1 million square feet of Firestone roofs under warranty and achieved an outstanding quality incidence rating. We are pleased to be honored for our "Quality" of work.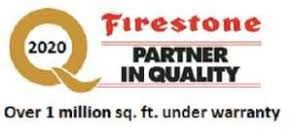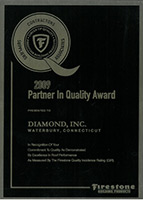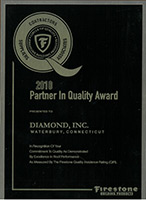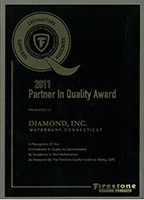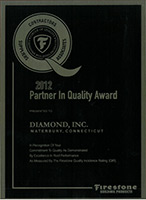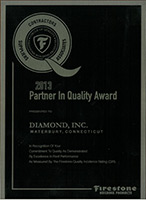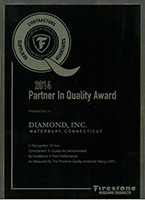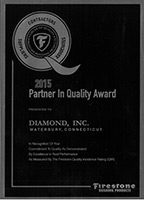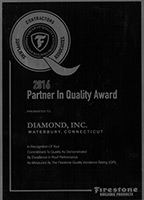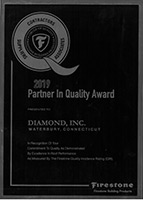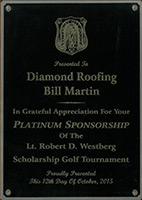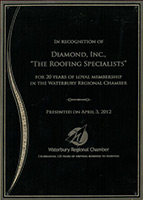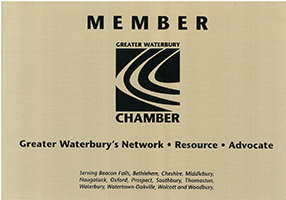 Waterbury Observer 2012 voted Diamond Inc. "The Roofing Specialist" the Best Roofing Company
Waterbury Observer readers have voted Diamond Inc. "The Roofing Specialist" Best Roofing Company in 2012, 2011, & 2005. We are honored to be recognized by the Waterbury residents for our work.
Waterbury Chamber of Commerce – Loyal Membership since 1992
In recognition of Diamond, Inc. "The Roofing Specialist" has been a Loyal Member since 1992 in the Waterbury Regional Chamber.
FIRESTONE 2012 & 2013 MASTER CONTRACTOR
Awarded in 2012 & 2013 for our commitment to unsurpassed quality roofing system installation, consistently provides outstanding service & exhibit an unwavering commitment to superior craftsmanship. Congratulated by Firestone for consistently striving for first-rate workmanship and superior customer service, and upholding Firestone's high commercial roofing standards.
BBB Accredited Business, with an A+ Rating since 2008
Click here to view our ratings
Diamond, Inc. "The Roofing Specialist" Receives 2008 Best of Waterbury Award. U.S. Local Business Association's Award Plaque Honors their Achievement.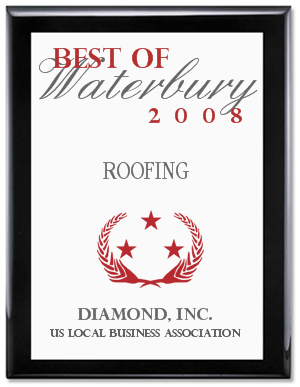 WASHINGTON D.C., September 3, 2008 — Diamond, Inc. "The Roofing Specialist" has been selected for the 2008 Best of Waterbury Award in the Roofing category by the U.S. Local Business Association (USLBA). The USLBA "Best of Local Business" Award Program recognizes outstanding local businesses throughout the country.
Each year, the USLBA identifies companies that they believe have achieved exceptional marketing success in their local community and business category. These are local companies that enhance the positive image of small business through service to their customers and community. Various sources of information were gathered and analyzed to choose the winners in each category. The 2008 USLBA Award Program focused on quality, not quantity. Winners are determined based on the information gathered both internally by the USLBA and data provided by third parties.
Affiliations
NRCA License #156043
GAF Master Elite Contractor License #ME22180
FIRESTONE Certified – License #4398
State of CT Approved Affirmative Action Plan
CT License #53626
Asbestos Training & Removal License #000180
State of CT Supplier Diversity Certification for Small Business Enterprise