Providing Only the Best in Roofing
Whether you need commercial or residential roofing, you don't want to take chances with a company you can't trust. Here at Diamond Roofing Specialist Inc., we've worked hard to establish a relationship of trust and honesty with our customers since 1970. As an established roofing company in the area, you can count on us to stand behind our warranties because we aren't going anywhere.
Our service areas include: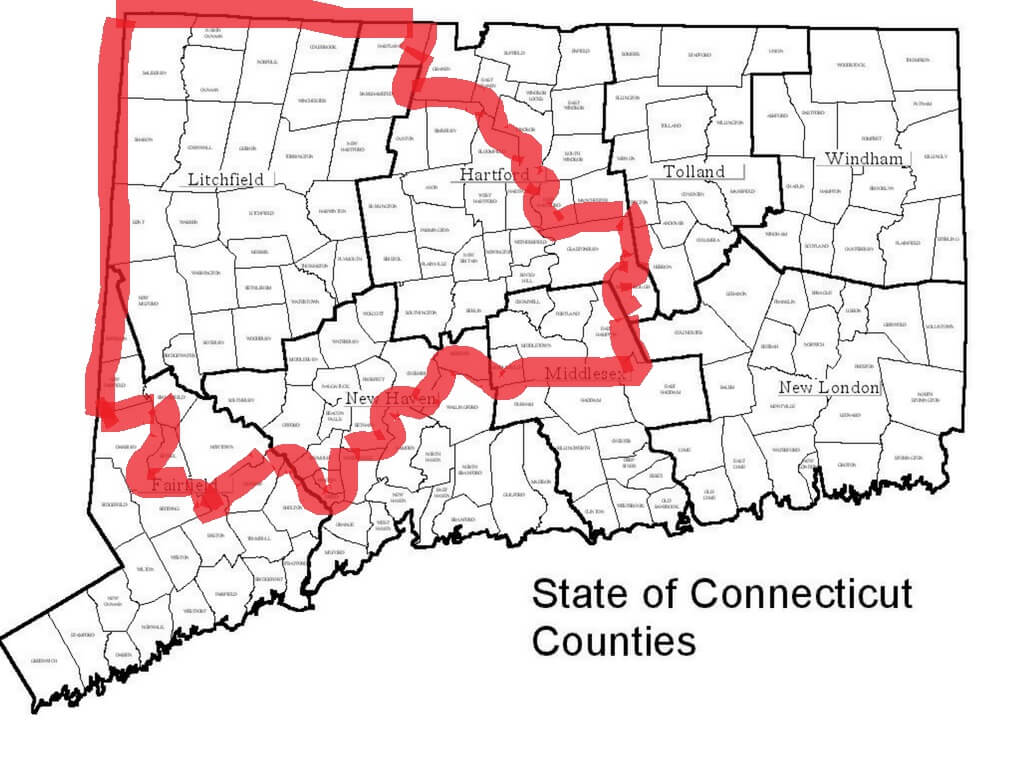 The red highlighted is the area we cover for residential services.
For commercial services, we cover the whole state.
Our salesmen work with you to determine what your roofing needs are. Whether you are replacing commercial roofing or just need a repair for the roof of your home, we are here to help. We strive to always answer your calls quickly and call you back within 24 hours because we know that roofing emergencies don't always happen during business hours.
Serving the Community
Of all the things we have achieved over the last 50 years, we are most proud of our solid reputation with our customers in the area. Our services are available in the following areas:
We Cover the Entire State for Commercial Roofing
Service Area for Residential Roofing: We Cover Waterbury & Surrounding Cities/Towns Along with Litchfield County
If your home or business is outside these cities, give us a call to see what we can do for you. We want you to come to us with all your roofing questions and problems, every time they come up. We offer the best warranty in the industry, and we use the best in products to ensure that our products stand the test of time. We are always courteous, professional and neat when we visit your home or business. At the end of the day, your satisfaction is more important to us than the money we make.
Contact Us
When you want a company that vows to always be honest with you and put your needs first, choose Diamond Roofing Specialist Inc.. Call us today for a free estimate at (203) 754-7884 .
Local Reviews
Diamond Roofing Specialist Inc. Rated 5.0 out of 5 stars based on 5 customer reviews
---
Good overall experience.
Chris - Watertown, CT

Review of Diamond Roofing Specialist Inc.

Excellent. Did what they said they would do.
---
Diamond Roofing
Trisha - New Milford, CT

Review of Diamond Roofing Specialist Inc.

Tom was excellent and in no hurry to explain the process of replacing our roof.His workers were very hard workers and really took their job as if they were doing their own 🏡.Tom would always return calls as soon as he could, as he was on the road a lot. He inspected all the work and made sure it was top notch. I would in a minute recommend his work and his company. 😊 Tom is the best and thanks and God bless. Trisha
---
Great Friendly Service
Ron - Colchester, CT

Review of Diamond Roofing Specialist Inc.

Very Pleasant
---
Great Work And Great Customer Service!
Mark - Middlebury, CT

Review of Diamond Roofing Specialist Inc.

Our experience with Diamond Roofing was great! They provided quality workmanship, professional workers, and great customer service. They completed the job in one day and cleaned up the yard perfectly! If you have any problems afterwards they will come right out and take care of it. Thank you Diamond Roofing for doing a great job!
---
Super Fast Service Call
peter - Wolcott, CT

Review of Diamond Roofing Specialist Inc.

Called about leak in my roof and Diamond Roofing here next morning. Problem fixed. Men very knowledgeable and courteous. Highly recommend for your roofing needs.
---
Tom S.
Near Chipman St, Waterbury, CT 06708
Tom S.
Near Winslow Dr, Watertown, CT 06795
Tom S.
Near Heather Ln, Plymouth, CT 06786
Tom S.
Near Brookside Rd, Waterbury, CT 06708
RICHARD C.
Near Brookside Rd, Waterbury, CT 06708
RICHARD C.
Near Brookside Rd, Waterbury, CT 06708
Tom S.
Roof install on new construction on funeral home in Middlebury. Client is very pleased with project and is excited to see finished installation of GAF architectural shingles on new roof.

Near Middlebury, CT 06762