Commercial Flat Roof Specialist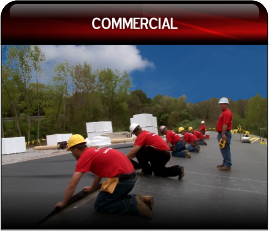 As a business owner or decision maker, you take great pride in the upkeep of your commercial property and have every right to expect that your roof repair and replacement needs are taken care of promptly and professionally. At Diamond Roofing Specialist Inc., we stake our reputation on our ability to provide superior roofing services for every project, regardless of the size. Our competitive prices and outstanding inspection ratings have made us one of the leading providers of commercial roofing throughout the State of Connecticut.
Experience the Quality Difference
Our professional roof replacement installers are second-to-none and take a great deal of pride in the quality of their work. Entrust us with your next roofing project and we will ensure that everything is done to your expectations and standards. As a highly-respected Firestone Certified™ contractor, we would never do anything to damage our reputation or the trust of our clients. Here are a few more reasons to give us a call when you need reliable roofing services:
Our roofs are backed by industry-best manufacturer warranties.
We specialize in only roofing and have developed a superior level of expertise in our field.
We have been in the roofing business since 1970.
We only use top-quality materials from trusted manufacturers including Firestone for commercial roofing.
We don't use outside financial institutions and provide in-house financing with competitive interest rates for those who qualify, including 0% for six months.
We are OSHA trained and certified.
Our salesmen and installers are some of the most experienced and hard-working professionals in the industry.
Your satisfaction is our top priority.
If you're tired of high-pressure salesmen who utilize questionable tactics, you will love working with our courteous and knowledgeable sales staff. We will never pressure you into purchasing any roofing service that you don't need or want.
Call Now
We love meeting new clients and showing them what quality roof replacement services look like. Receive your free estimate by using our convenient online request form or give us a call at (203) 754-7884 to speak with one of our knowledgeable salesmen.
Commercial: Waterbury, Danbury, Bridgeport, New Haven, Wallingford