Asphalt shingles are an ideal roofing material. They are virtually indistinguishable from slate and wood, and they appeal to every budget. Thanks to modern manufacturing techniques, they now come in a variety of ultra-dimensional profiles and high-definition colors. Plus, they're highly recyclable; most of them can be reclaimed for paving, so they help in conserving precious natural resources and creating new jobs.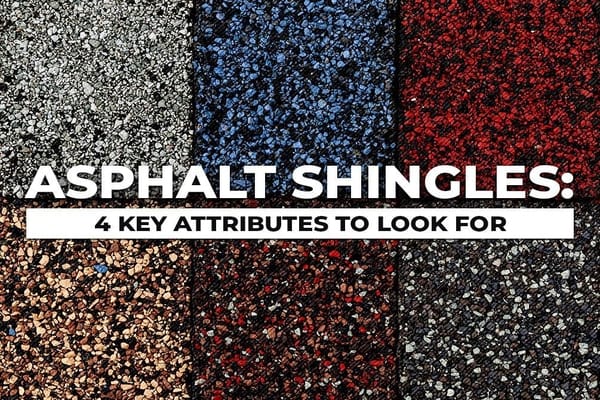 The most impressive thing about asphalt roofing shingles, though, is perhaps their durability. Considering their economical price, they can last for decades with proper installation and maintenance. Not all asphalt shingles are the same, however. To find the product that meets your performance goals, look for the best trade-off among these key attributes:
1. Adhesion Strength
The ability to stand up to strong winds is the secret to longevity. Apart from aesthetics, architectural shingles trump their three-tab counterparts in the wind-uplift resistance department because they're usually thicker.
In addition, be particular with your choice of brand and contractor. For instance, GAF shingles are guaranteed to withstand winds up to 130 mph because they're sealed with Dura Grip™ Adhesive. Furthermore, Master Elite™ roofers, like Diamond Roofing Specialists, Inc., ensure flawless work that uncertified contractors are not likely to match.
2. Fire Endurance
The safest asphalt shingle choices have a Class A rating from Underwriters Laboratories. The secret to meeting the requirements of the highest fire rating is the use of non-combustible fibers, like GAF's FiberTech™ Components.
3. Impact Resilience
Hail is one of the top reasons many homeowners spend a lot on roof repair. Most asphalt shingles aren't tough enough against damage from the impact. To get extra protection against hail and possibly qualify for insurance discounts, choose a product that passes UL 2218 Class 4 Impact Test, like the Timberline® ArmorShield™ II Shingles.
4. Algae Resistance
Generally, blue-green algae isn't a threat to your roof's structural integrity, but it can cause unsightly discoloration that can ruin curb appeal. Although you can clean algae colonies off, it's better to invest in a product designed to resist their growth naturally, to reduce the need for maintenance. Conveniently, GAF shingles come with StainGuard® Protection.
Harness the best of GAF asphalt shingles with Diamond Roofing Specialists, Inc. Specialist. Call us at (203) 754-7884 to talk about your project in New Haven, Bridgeport, or Waterbury, CT, or ask for a free estimate now.