Learning how to identify signs of wind damage can help you manage, in a timely manner, any roofing repairs you might need. The same information will also help you prevent minor problems from turning into bigger ones later on. GAF Master Elite contractor, Diamond Roofing Specialist Inc., shares a few things you should watch out for so you can protect your roof and home from the dangers that wind damage can bring on.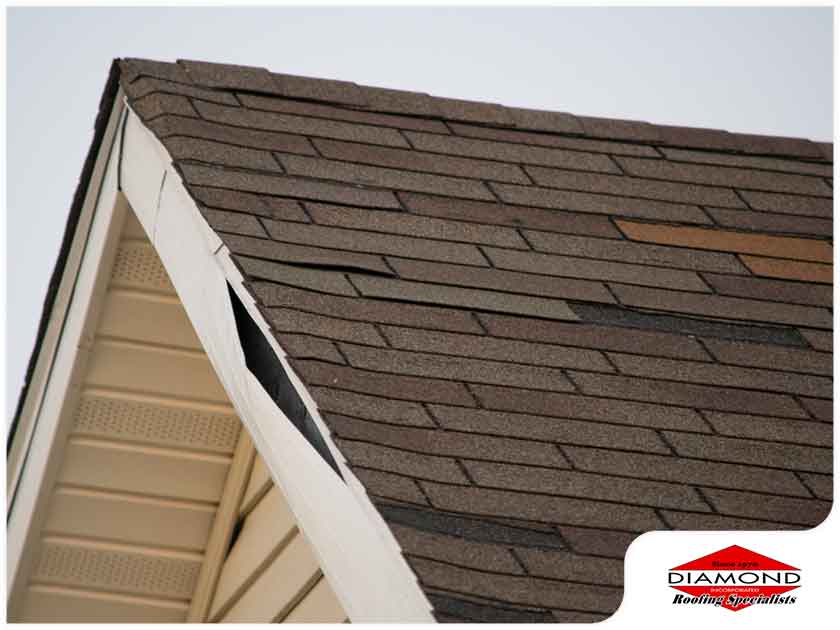 Dislodged Gutters
Strong winds can cause detachment, particularly if you have an older house or if your gutters weren't properly installed to begin with. Properly functioning gutters are essential in keeping water from pooling on your roof so make sure to have any sign of gutter damage looked at as soon as possible. Watch out for gutter blockages too.
Creased Shingles
Shingles that remain attached to your roof aren't necessarily damage-free. During post-storm inspections, professional roofers, like Diamond Roofing Specialist Inc., will look for creases or tearing as they are also indicative of wind damage.
Cracked or Dented Flashing
You should, likewise, look out for flashing damage. They can either be bent, cracked or detached from your roof completely. Wherever they may be located – valleys, ridges, eaves or chimney bases – your flashing should always be in top condition to prevent water from seeping into your underlayment.
Moisture Retention
Some signs of roof damage can actually be spotted in other parts of your home. If you spot mold growth or water stains near or on your ceiling, you may have a wind-damaged roof to deal with. If you think that your indoor air quality has deteriorated following a severe weather event, you should have your roof checked for moisture retention issues too.
Learn more about wind damage and how to protect your home from it with the help of Diamond Roofing Specialist Inc. We have been in the roof repair and installation industry since 1970 so our expertise will sure be beneficial for you. Set up an appointment with us by calling (203) 754-7884 or by filling out our contact form here. Estimates are free if you have a home in New Haven, Bridgeport or Waterbury, CT.