Rubber flat roofing used in many commercial buildings is prone to a number of problems. One common issue for this type of roof is shrinkage. EPDM and modified bitumen roofs, in particular, can have some very visible shrinkage issues that could compromise the structure and performance of the whole roofing system. While new developments in the way EPDM is made have minimized the effects of shrinking somewhat, this problem remains prevalent to this day.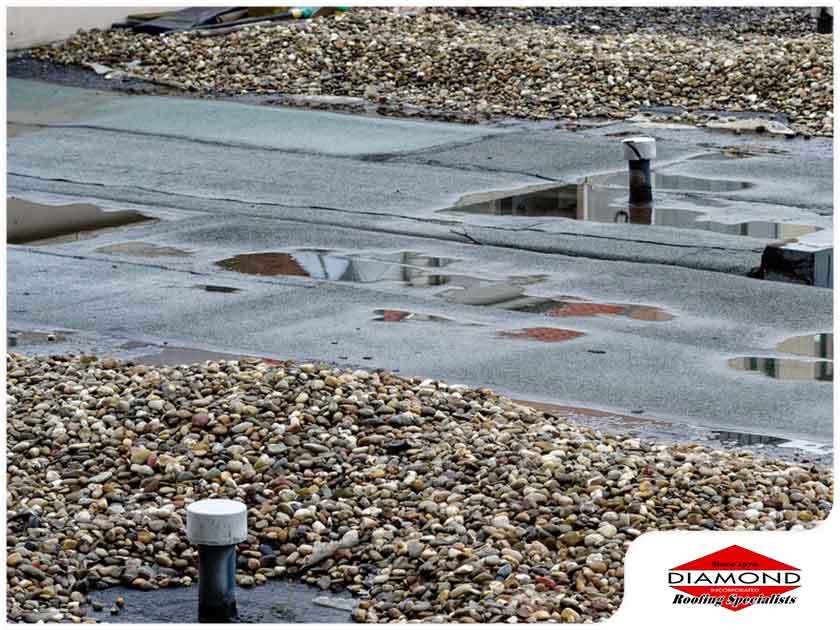 Shrinking membranes do not necessarily cause total roof failure. However, they can pull away at the flashings in curbs and along walls, which opens up the roof to be more vulnerable to water penetration. Let our experts at Diamond Roofing Specialist Inc. give you tips on how to prevent this problem or, if it has already occurred, fix its ill effects.
Preventing Shrinkage
The best way to prevent shrinkage problems in modified bitumen and EPDM roofs is with proper installation of the membranes. That's why it's important to have a reputable roofing company handle the job. The main cause of shrinkage is exposure to heat from the sun. In EPDM roofs, ballast is used as a protective layer to lessen how much heat the roof absorbs. For modified bitumen, contractors should stagger laying the bitumen in between hour-long rests to give the material some elbow room to contract and expand.
Repairing Shrunken Roofs
Most of the damage caused by shrinking is in the roof flashing. Focus most of the repairs on the flashing, replacing the ones too badly damaged with new strips. Check the flashing strips in the borders of any roof penetrations and walls as these are the ones most affected by shrinkage.
Call a Professional Right Away
The most reliable way to avoid future problems is to contact your local roofing contractor for repairs immediately. Often, shrinkage can be lessened by cutting the field sheets and installing new layers to allow more thermal movement within the membranes.
At Diamond Roofing Specialist Inc., we are your leading provider of commercial flat roofing services including repairs, replacement, and maintenance. Give us a call at (203) 754-7884 or fill out our contact form and request a free estimate today. We serve property owners in Waterbury, Watertown and Danbury, as well as other neighboring communities in CT.