Investing in a cool roof helps reduce not just your utility bills but also the urban heat island effect. But what makes asphalt shingles energy-efficient? The coolest roofs can do these three things best: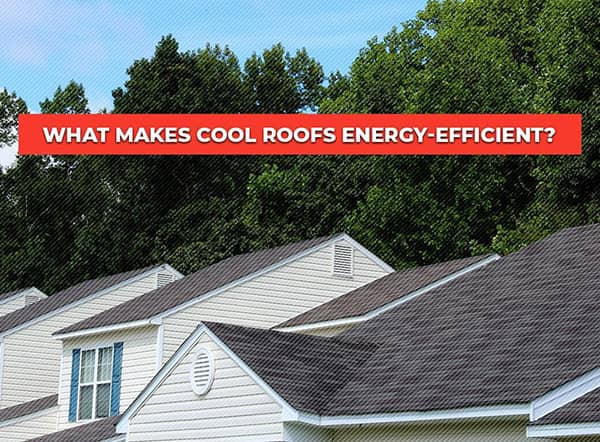 Reflect Solar Heat
Solar reflectance is the measure of how well the roofing material can block the sun's heat. The higher the product's reflectance value, the less hot its surface becomes on a warm, sunny day. Any experienced roofing company, like Diamond Roofing Specialists, Inc. Specialist, would tell you, though, that the reflectance property of the material changes over time. ENERGY STAR has minimum requirements for initial solar reflectance and reflectance after three years to consider a steep-slope product energy-efficient.
By and large, light-colored roofs tend to be more energy-efficient than darker ones, as white reflects all colors. Fortunately, energy-efficient products, like GAF's Timberline® Cool Series® Shingles, now come in bold colors for impressive curb appeal.
Giving Off Absorbed Energy
Emittance is the measure of how well the roofing material can cool itself. Products with high emittance values "shed" heat (rather than retain it) more than non-cool materials.
To promote standardization, the scientists at Lawrence Berkeley National Laboratory developed a universal unit that rolls both thermal properties into one. Using a complex formula per ASTM E 1980, the Solar Reflectance Index is the preferred measure by the Cool Roof Rating Council. On a scale of 0 to 100 (lowest to highest), you can easily determine the overall energy efficiency of the roofing material at a glance.
Expelling Indoor Moisture
A cool roof is a system and doesn't rely on shingles alone. High-performance roofs come with an efficient ventilation system and breathable underlayment to regulate attic temperatures. In turn, your roofing system can exhale excessive humidity in summer and keep the air dry in winter more effectively.
At Diamond Roofing Specialists, Inc. Specialist, we recommend the Lifetime Roofing System. As a GAF Master Elite roofing contractor, we can help you put the right components together to boost your roof's energy performance. Call us at (203) 754-7884 to schedule your no-obligation project consultation in Watertown, Waterbury or Danbury, CT, or ask for your free estimate today.