Best Commercial Roofing in Danbury
At Diamond Roofing Specialists, Inc., we back every project with the best warranty in the industry because we are that confident in our work and our products. Whether you need a simple roofing repair for your business or an extensive roof replacement, we are here to help.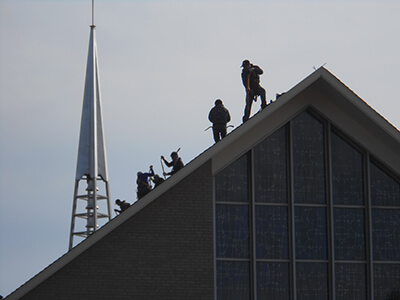 We take pride in the reputation we've earned over the last 45 plus years and are confident we can handle anything you need. We've had the same owner, same name and same phone number since 1970 and we will be here for years to come which means you can trust us.
Why Choose Diamond Roofing Specialists, Inc.?
We are always honest and open with our customers about what is best for their commercial roofing in Danbury. Our customers come back to us again and again because they know they can count on us for:
Quality workmanship, excellent service and fast response times
Trustworthy salespeople that are knowledgeable and helpful
Putting our customers first. Customer satisfaction is our #1 priority
Competitive prices from a reputable company
We know that ultimately, you value low prices, exceptional customer service, and high-quality workmanship that gives you peace of mind. You get all of these things and more when you choose Diamond Roofing Specialists, Inc.
We choose manufacturers that we believe in because we trust their performance and quality, and want to pass the value on to our customers. As a GAF Master Elite contractor, we are in the top 3% of roofing contractors which guarantees you are getting one of the best contractors in the country.
Call Us Today
Give us a call today to schedule a free estimate with a roofer that offers expertise and experience in all roofing areas. Schedule your estimate today at (203) 754-7884. We are confident you will become a lifelong fan after one experience with us.